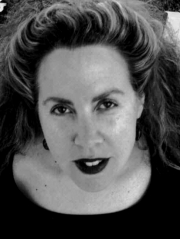 By Karla Huston
CHIMERA: an interview with Denise Duhamel by Karla Huston

(Note: this interview was conducted via email between January and May 2004.)

Denise Duhamel's poetry has been described as stunning, suggestive, and startling. Rain Taxi says, "Duhamel's careful yet freewheeling musings employ a seamlessly shifting digital palette of techniques, devices, and tones, all in the service of a poet able to maintain distance yet remain engaged and human. She is much like this last-call century of ours, searching for the point from which to take a running leap to a new kind of poetry." Her poems speak with a wild irreverence. Not afraid of critics and naysayers, Duhamel experiments with form and subject, creating poetry that challenges the reader's notion of what poetry should be. She presents what poetry could be as she fully engages pop culture, the joys and horrors of it, while maintaining the ability to poke fun at our foibles—and make us think.

Duhamel's most recent books of poetry Two and Two (University of Pittsburgh Press) and Mille et Un Sentiments, a limited edition chapbook (Firewheel Editions), were both published in 2005. Saints of Hysteria: A Half-Century of Collaborative Poetry (an anthology which Duhamel edited with Maureen Seaton and David Trinidad) will also be forthcoming in 2005 from Soft Skull Press. Duhamel is the author of ten books of poetry, including: Smile!, (Warm Spring Press, 1993), How the Sky Fell (winner of the 1995 Pearl chapbook contest) The Woman with Two Vaginas, (Salmon Run Press,1995), Girl Soldier, (Garden Street Press,1996), Kinky (Orchises Press,1997), The Star Spangled Banner (Southern Illinois University Press,1999), Queen for a Day (University of Pittsburgh Press, 2001), and three collaborative collections with Maureen Seaton: Exquisite Politics, (Tia Chucha Press, 1997), Oyl, and Little Novels (Pearl Editions, 2000, 2002). She co-edited the anthology Sweet Jesus: Poems About the Ultimate Icon (anthology press, 2002) with Nick Carbo.

Born in Woonsocket, Rhode Island, and educated at Emerson College (BFA) and Sarah Lawrence College (MFA), Duhamel has read on National Public Radio's All Things Considered and Bill Moyer's PBS television special Fooling with Words. She has been awarded writing residency fellowships both in the United States and Europe. Her poems have been anthologized in Best American Poetry in 1998, 1994, and 1993. A winner of a 2001 National Endowment for the Arts Fellowship in Poetry, she is an assistant professor at Florida International University in Miami.

KARLA HUSTON: Your poetry has been called freewheeling, quirky, and self-conscious with a "roll-up-your-sleeves-and-fight examination of the self [with a] casual anecdotal quality" to your lines (Rain Taxi). You have been praised for writing with a "zany humor that holds terror at bay" (Caesura). Your poems have been called "life-affirming" without being cloying (Booklist). In a recent issue of Poets & Writers (March/April 2004), you were described as being a "Stand Up" poet—one who uses "humor, informal language, and references to contemporary urban and pop culture." So—what kind of poet are you anyway?

DENISE DUHAMAL: As a poet, I do believe I'm a bit of a chimera. (Remember that Greek monster who had the head of a lion, the body of a goat, and the tail of a dragon?). While I hope that I have lived long enough and written enough poems to have developed a voice, I also think I'm a hybrid. While I value humor in some poems, I am also very interested in the dark side, politics, spirituality, storytelling, and word play. Sometimes I am able to get two or more of those interests into a poem and other times not. I'm really honored to be included, for example, in such diverse anthologies as Bum Rush The Page and Best American Poetry. I guess I'm a crossover poet. I actually don't believe so much in poetry camps to begin with, so I'm happy to be among any poets who'll have me.

KH: When did you realize that you were serious about pursuing a career in writing?

DD: I don't think there was a definite moment in which I became serious about my career as a poet. Instead it was a series of steps: deciding to pursue an MFA (which takes guts since so few poets make it, career-wise); deciding to send poems out to magazines; then deciding to pursue reading venues. I suppose, after getting my MFA at Sarah Lawrence in 1987, I felt that I was in it for the long haul and wanted to be published. It took six years to place my first book at a very small press.

KH: In an interview published in Main Street Rag (Spring 2004), you said that you'd been a writer since childhood, creating little novels of your own. Coincidentally Little Novels is the name of your collaborative book written with Maureen Seaton.

DD: I never made the connection between the little novels I wrote as a kid and the little novels, sonnets based on novels in the canon that I wrote with Maureen. But this makes me think of my love for chapbooks, little books. I have a big collection of chapbooks of all shapes and sizes. I love chapbooks, small books, handmade books of all kinds. And I actually ask students in my advanced undergraduate workshops to make their own chapbooks for a final project. They have to figure out the page layout, sew the spine, design their covers, and write up a little bio to put on the back. My students seem to like the project. It brings them back to childhood, and many students tell me that they also made books as kids or turned their notebooks into books, filling the pages with their own stories. It's an interesting question, how does one go from literally making her own books to having them published?

KH: So many writers teach, yet few earn a living only as poets these days. Is this a condition of the professionalization of writing or just a condition of today's poet?

DD: I actually don't know even one American poet who earns a living by poetry. I don't think the professionalization of poetry is to blame for that. I just don't think [writing] poetry has ever paid much of anything. Perhaps there was a time when poets had patrons, but I don't think poets lived off their royalties or anything like that.

KH: Does teaching contribute to your writing or is it a distraction?

DD: I am so envious of teachers who say they write along with their students. I find it very hard to write and teach at the same time. Teaching requires a very different kind of energy from me. I don't think teaching contributes to my poetry writing, though it does contribute to my reading. I tend to write reviews during the school year. Because I am so adamant that my students read lots of contemporary poetry, I assign many books, some of which are new to me. I read more closely when I teach those books, and that, I think, helps my writing, which I do eventually get to–usually when classes are over. I do try to keep the wheels turning, though, during the academic year, and I try to give myself assignments to write at least a little every day. Even if I'm not writing complete poems, I write lines or ideas for future poems.

KH: Since teaching requires so much creativity, how do you nurture your imagination? Do you follow certain writing rituals?

DD: One of the rituals I have is to play with words. Artists are always sketching, right? Musicians are always practicing. So sometimes I hear or see a word and think "sestina," and I write the actual end-words I might use if I had the time to write the poem. For example, this morning I was reading the poet Honor Moore and I thought: Honor Moore, Michael Moore, More cigarettes, more or less, moreover, morbid, moral, mortuary, Maury Povich, forever more, one more time, and that disco song "More more more,
how do you like your love?" I'll probably never write such a poem, but writing notes, however silly, keeps my brain constantly making connections with words. Good triggers for me are often visual. I have a game called "Go," cards which come with reproductions of miniature paintings (some more abstract than others). I pick a card at random and place it into a frame with words like "Justice," "Love," "Death," or "Peace" on the border. And I find an automatic trigger from which to begin writing.

KH: You mentioned reading a particular poet. How has writing poetry affected the way you read?

DD: I believe it's impossible to write good poetry without reading. Reading poetry goes straight to my psyche and makes me want to write. I meet the muse in the poems of others and invite her to my poems. I see over and over again, in different ways, what is possible, how the perimeters of poetry are expanding and making way for new forms.
KH: Does being a writer make you more critical or more conscious of what other writers are doing with imagery, form, line, diction, and syntax?

DD: I occasionally read, hyper-conscious of what others are doing, but that is usually when I am creating assignments for students based on the texts they are reading. I'll ask them to try an abecedarian with lots of alliteration or try to write about a vague noun (like death or love or mystery) in concrete terms or try to write a poem in which the speaker is someone who's wronged them. But when I read poetry for myself, for pleasure or nourishment, I read it for pure enjoyment. And that is often when the muse comes to visit me–when I'm completely open to the poem I'm reading.

I love to read lyric poems yet I rarely write them. I'm reading Gregory Orr's The Caged Owl at the moment. It's a very rich, intense book. I try to read every kind of poetry, though it's easy to fall behind. My husband Nick [Carbó] is interested in visual poetry and hypertext poetry, so I read that as well.

KH: Many poems in The Star Spangled Banner are written about your relationship with Nick and the sometimes joyful and complicated juxtaposition of two different cultures. Nick has written poems about you, as well. How do the two of you handle the sometimes-slippery slope of writing about each other?

DD: Nick is an amazing husband and poet. He actually loves when I write about him. I always show him my work before I send it out. He's never asked me to refrain from putting anything out into the world. I'm always happy when he writes about me as well, even if he's making fun of me. Our motto is that it's better that we're writing about each other than someone else.

KH: Speaking of couples, recently, Mattel, the toy maker, has decided Barbie and Ken will break their long-term relationship. Knowing your book Kinky explores them in depth, are you compelled to write about this new wrinkle in their association? Or are you finished with them? Have Barbie poems now become clichés?

DD: You know, I think I am done with Barbie. I don't think that Barbie poems have become cliché, and I still run across some very good ones, every once in a while, but I think I've just exhausted myself poetically with Barbie. I'm still really interested in what is going on with her though–this break up with Ken is so bizarre. I've always thought Ken was gay and that the whole relationship was a sham. Maybe Barbie just couldn't take it anymore?

KH: Your previous books are sometimes wildly different in content. For example, the books Smile!, Girl Soldier, and The Star Spangled Banner are largely personal narratives. Kinky and Oyl, co-written with Maureen Seaton, are ironic examinations of pop culture. How the Sky Fell and The Woman with Two Vaginas are reshapings of myth or reinterpretations of fairy tales. In Little Novels, also co-written with Maureen Seaton, you nearly rewrite the canon. Can you talk about the impetus in these vastly different subject matters and your ability to leap from the personal to, some would say, a feminist and/or quirky perspective? How did you make the jump from writing about personal experience and politics to writing about Chicken Licken and Snow White?

DD: I think at some point I just overdosed on telling my own stories. My first book Smile! and my third book Girl Soldier, both of which were full of first person narratives, were actually written consecutively. Though The Woman with Two Vaginas was my second published book, it was really written after Girl Soldier. I just happened to find a publisher for it more quickly. So, in essence, I had written two books of personal poems before I shot off into the land of myth, fairy tales, and pop culture icons such as Barbie and later Olive Oyl, with Maureen. I think that pop culture and myth were ways to simultaneously get out of myself and into big themes–feminism, class issues, domestic violence, body image, and such. I wanted to write about gender politics without necessarily retelling my [own] story. I also wanted to use social satire to avoid, I hope, didacticism. Actually, I say this now, looking back, but I'm not sure how aware I was of all this at the time. But I do consciously remember saying to myself, "Enough with the ˜I" poems already.

KH: In a sense, you're still telling your story but using a different voice. Do you think enough personal narrative poems have been written? Or is personal narrative the entry point for beginning writers?

DD: I would never say that there were too many personal narrative poems. I think that storytelling is one of the things that first drew me to poetry and kept me there. I think it's very important for poets, who need to tell their stories to continue, to do so and not worry about literary trends or fads. I wrote first person narratives as a starting point, but even after delving into all the myth and pop culture stuff, I still continue to write first-person narratives. The Star-Spangled Banner is full of personal poems, and my next book Two and Two has quite a few as well.

KH: Marge Piercy, in a recent interview in the Writer's Chronicle (May/Summer 2004) says, "Writers strive to make sense of the events of our lives and try to find a pattern that proves where we are has some meaning." Do personal narrative poems function in a similar way to memoir, that of making those connections and patterns?"

DD: Yes, I do think personal poems are similar to memoir. Even if the poems are not strictly autobiographical in detail, personal poems at the very least flirt with autobiography. Piercy's quote makes me think of the patterns poets search for as poetic forms.

KH: Piercy continues to say that after writing about a particular memory, it "metamorphosizes [in poetry, maybe it's metaphor-morphosizes] into something else strange and different. Actually it's hard to tell what actually is part of your life. In a sense, part of my life is lost to me because I've given it away." Do you find this to be true? How does taking poetic license with life's events affect the original memory?

DD: This is such a fascinating question, the question of what is true. The details of an event are different from the tenor of an event. In poetry, one may use the tenor/tone/feelings of an event, but change the time and place. I also find that using different fixed forms of poetry force poets to stray away from the exact details of experience in order to fit the form. Paradoxically, many times this can also make the poem seem truer than what actually happened. Writers tend to mythologize their stories, leave out the boring parts (they hope!). Changing or altering the memory within a poem may be transformative for a poet and a reader. The French have a term "l'esprit d'escalier," meaning "the wit of the staircase," referring to the witty response one could have used to put a foe in his or her place, but that one doesn't think of until after the fact. The wit of the staircase is something I experience a lot. "I should have said this when he said that." Poetry and fiction are the places where staircase wit can be realized. A poet has the chance to write a revisionist history of her own life, to have the last word. Of course, the haunting real memory is still the real memory, but playing with the memory is liberating.

KH: In addition to writing your own experiences, you've often written about big themes: class, gender issues and violence. Are you still speaking to those issues in your poems?

DD: Yes, indeed. In Two and Two, one of the big themes indeed is violence–the violence often experienced by children inside the home and the larger violence of September 11th. Since then, I've also written about the debacle and our violence in Iraq and, more personally, about a very violent accident that happened to my parents in September 2003. My guess is that issues of class and gender will always be part of my work.

KH: You deal with violence from the local to the global. For example, in your poem "What Happened this Week" from Smile!, you write about Billy who was "too old for milk cartons," but "just ripe for the morgue;" or in your poem "Four Hours," you refer to the little girl who was "coaxed into a car by a man." Even though these poems are more than ten years old, they seem taken from recent news headlines. From where do your ideas come? Do you discover them in the news, the media and find yourself angered or maybe outraged? Is this the point where you feel you must speak?

DD: Yes, I'm still very interested in the absurdity of the news and the horror of so many news stories. I think poetry can take a sensational headline or a story and personalize it in a way that is not necessarily sensational and therefore more human and real. Poets who respond to news events often make the news more three-dimensional, more complex, and even more haunting than the headlines. I'm thinking especially of Ai and her poems about O.J. Simpson and Jon Benet Ramsey.

KH: Many of your poems concern sexual violence, including those in The Woman with Two Vaginas, where you retell Inuit myth. Do you think writing poems in this manner–retelling of myth, for example, gives you a "voice" you wouldn't normally have?

DD: Writing about sexual violence is one of the hardest things to do, in my opinion. How do we write about rape without raping the victim all over again?

It makes sense that poetry is the most suitable expression for those violated since poetry can be our most private of all artistic utterances. I believe, looking back, that I was appropriating myth to tell stories that would have been too difficult for me to tell in the first person. I was drawn to the Inuit myths because of the strong women characters who were able to fight back. These stories gave me courage to deal with my past.

KH: The September 11th poem, "Love which took its Symmetry for Granted" from
Two and Two is a cut-and-paste poem, almost, what William Burroughs called a "cut-up," composed of emails from friends, forwarded announcements from several sources, various articles and selected quotations, as well the documentation of your own activities that day. The poem reads in many ways like an exercise in sensory overload:

There was a small black and white TV in a professor's office. The English Department secretaries got a key and we watched both towers collapse, one after another, in grainy black and white. It was like a Godzilla movie. I kept leaving the room to do a bit of work–back and forth– I went to the bookstore downstairs to check that all the books for my class had come in, I put out some mail, I tried to read some student poems. I called my dad in the hospital who said, "Oh my god, they just got the Pentagon." His heart, I kept thinking, his heart. So much easier to focus on one beloved heart.

>> Gina and I went down the stairs holding hands. I tried to call Eric but
>> my cell phone wouldn't work.

>> I was very concerned about how to get
>> home, especially since (as some of you
>> know) I'm expecting a baby girl and am
>> now three weeks from my due date.

Osama's mother, a Syrian beauty, was his father's fourth, and final, official wife…she was considered by the conservative bin Laden family to be far ahead of her time. (For instance, she refused to wear a burka over her Chanel suits when she traveled abroad.)

>> A few bodegas are open.

KH: And this is only a small excerpt from a much longer poem. Even in this fragment, you exhibit a kind of frenzy. Does the poem reflect your experience of the hours of chaos after the attacks? For example, your furious tread-milling: "I got my heel spur from pushing too hard". Your voice seems to reflect the mood of the nation that day: disorganized and frightened and desperate to come to some place of understanding.

DD: Yes! I had no idea how to respond to 9/11 and, like many poets, thought I would be unable to respond at all. I had never kept any e-mails before. I'm not even sure how to keep e-mails actually, but I just couldn't erase the e-mails I was getting that first week after the attacks. I printed them, as artifacts, I guess, unable to throw them away. Then sometime in October, I reread them all and started highlighting passages. Before I knew it, I was cutting out chunks of the e-mails and arranging them on the floor. I put them all together and by November 2001, instead of giving a reading I was supposed to give, I asked eleven friends to read the poem out loud for me. It was really intense. Each friend had a different part and the voices bounced back and forth off each other. On September 11, 2002, some students at Miami Dade Community College also performed the poem. I wasn't sure at first if it belonged in print since I had heard it more as a voice poem, but when I was working on Two and Two, the subject of Noah's Ark was already there and violence, on a big scale and personal, was evident in so many of the poems.

KH: How did the notion to paste together a collage of voices come to you?

DD: I was teaching a literature class on collaboration and collage that semester at FIU (Florida International University) and one day everything just clicked. The process of putting the fragments together was very intuitive.

KH: Two and Two: Is this where the title comes from?

DD: I was thinking: Noah's Ark. The phrase: Put two and two together. The Twin Towers. Pairs and couples of all kinds. I also used forms that depended on twos–the pantoum (which repeats two lines) and a double sestina, for example.

KH: You present several surprising poetic stylings, in this book, including an abecedarian in "My Americano," several double sestinas, a canzone, a list, and two Mobius strip poems: "Forgetfulness" and "Love Sex Food Death." A Mobius strip is a kind of a mathematical conundrum, isn't it, a continuous circle with a 180 degree twist? How were you able to join two such seemingly contradictory modes: mathematics and art?

DD: I was at the MacDowell Colony in the year 2000 and several interdisciplinary artists were making video loops and one woman was actually twisting film as she fed it into a projector. The Mobius strip isn't as complicated as it may first sound. It's simply the infinity sign made 3-D. If you put your index fingers through a rubber band, pull and twist, you have a Mobius strip. So I was mostly interested in a looping narrative, a story that seemed to have no beginning and no end, a story that I [or readers] could enter and leave at any point.

KH: Your poem "Accident" relates a terrible event that happened recently to your elderly parents. It is a frightening poem to be sure, and yes, violent, but it is tempered with the imagery of "Jack and Jill," the nursery rhyme. The poem begins:

The escalator is going up,
my father behind my mother, one stair down.
Jack and Jill go up
the silver jagged hill, up
the crowded escalator. My parents fall—
up is down, down is up,
and no one is left standing up
anymore, the metal steps,
the howling hungry steps
with mean metal teeth, rip up
my mother's white jeans, leave Twister-size blood
spots. Her white sneakers streaked with bloody
stripes.

The musicality and even subtle humor seem to soften the subject. Was it your intention to ease the horror of the incident for the reader or was that simply a side effect?

DD: My parents were in an horrific accident on September 10th, 2003, and I wrote pages and pages about it, trying to deal with the violence of it, but also trying to find a form to talk about the incident. This was a freak accident, when an escalator collapsed. I wrote mainly in prose at first, but it wasn't until I was able to bring in a nursery rhyme, the idea of Jack and Jill going up the hill and tumbling back down, that I was able to even wrap my mind around it enough to use this material for poetry. I chose the form the canzone, which has five repeating words–my words being up, down, fall, steps, and blood. I would say this is an extremely personal poem, but also a poem of witness and storytelling. I wasn't at the site of the accident, but rather heard about the accident from my parents and the other patients who were in the fall and who were also hospitalized alongside my parents. So how much is "true" to the actual accident is debatable. Even now, no one is sure exactly what happened or why the escalator collapsed. I want to also say that my parents are doing very well now and have had a miraculous recovery.

KH: Some might find writing about such a horror to be exploitive in some ways. And yet, in many ways, the accident happened to you as well. It profoundly changed your parents and your own experience, your memories of them.

DD: Yes indeed. This was complicated even more by the fact that my mother, while still in very bad shape from the accident, asked me never to write about the accident. Of course, for a while, it was all I could write about and all I could think about. I knew I would write these poems no matter what, but assumed I would never publish them. When I showed "The Accident" to Ed Ochester, editor of the Pitt Poetry Series, he asked for this poem to be part of Two and Two. I felt like I couldn't include it without my parents' permission. I've never asked my parents' permission before, even though I've written about them. But I felt this story was theirs and not mine. I was so surprised when my mother said she didn't even remember asking me to avoid writing about the accident. I told them that the poem existed and asked them if they could bear to read it, and that, if they approved, if I could include it in my next book. I told them if they didn't want to read it, that was OK too. I just wouldn't put it in at all. But they both read it and gave their blessings. I read the poem aloud for the first time at The MacDowell Colony in May of 2004. I felt safe to do so since a filmmaker had made a graphic film dealing with her father's death in a car accident and a visual artist was making a huge painting of a wrecked car based on a photograph of the car her friend had been hurt in. I've also written some prose poems about the accident that will be published in Sentence and Prairie Schooner. On September 11, 2003, I flew to New Jersey where the accident took place. A few years before I'd memorized Sharon Olds' poem "The Race," and I played her poem in my head all the way from Fort Lauderdale to Atlantic City.

The Race depicts her frenzied dash to catch the airplane that will take her to her father's deathbed.

KH: Your poem "Embarazar," which means to impregnate in Spanish, explores the sometimes confusing juxtaposition of two cultures, especially American pop culture which seems so ubiquitous. The poem looks at ironies of translations such as "Got Milk," which translates into Spanish as, "Are you lactating?" This excerpt shows some of these contradictions:

The Dairy Association's huge success with the campaign "Got Milk?" prompted them to expand advertising to Mexico. It was soon brought to their attention the Spanish translation read, "Are you lactating?" This worries me because I am in Spain and my period is over a week late. Café con leche descafienado con sacarina, por favor. You're not supposed to have swordfish when you're pregnant, so I order it. My body refuses to give me a hint. I feel no premenstrual bloating, no breast swelling, no backache. I feel no morning sickness, no cravings. I feel my stomach for signs of a heartbeat. I imagine my breasts, spilling over with leche. When Parker marketed a ballpoint pen in South America, its ads were supposed to have read, "It won't leak in your pocket and embarrass you. "The company thought that the word "embarazar" (to impregnate) meant to embarrass, so the ad read: "It won't leak in your pocket and make you pregnant!" I fear my husband's pen has leaked into my pocket.

KH: You often write of some of the worrisome and strange ironies that exist in the use of language? Does being married to a man of Filipino heritage make those differences more apparent?

DD: Nick's poems actually have jokes in them that are funny in English, but
hilarious if the reader also knows Spanish. Being married to Nick has made me
realize how American I am and how American-sounding my poems are. There are idioms that he doesn't always get at first and has to ask me about, even though he's spoken English since he was six. He just didn't learn American English. A German poet is currently translating my poems and his letters to me are really amusing and fascinating. When I'd written "don't knock it," he asked if it had to do with coming through a door. He'd never heard the expression "aw shucks" and wondered if it had something to do with oysters. Translating word for word in a dictionary can really allow for some wonderful mistakes and misinterpretations.

KH: Speaking of interpretations or maybe misinterpretations, your poems have been described as vivacious, uninhibited and sometimes sex-obsessed. I'll accept vivacious and uninhibited, but sex-obsessed? Why, when women write about their sexuality, do many suggest the idea of obsession?

DD: Don't get me started! Or rather, thank you for getting me started. From my very first publications, I've been hyperaware that many of my poems were interpreted as erotic, when my intention was to write with irony or satire. I was heartbroken when my second book of poems The Woman with Two Vaginas was published with a subtitle (that I didn't write or agree to) "Erotic Inuit Poetry." I actually bought stickers to put over that subtitle and went to bookstores and try to cover up the subtitles on as many copies as I could find.

I'm very interested in reclaiming women's sexual experience. Women are so often perceived as objects, sex SYMBOLS, and I am interested in writing, in an active way, what sex is sometimes like for women, with all the complexities and political ramifications.

KH: I guess, like your narrator in "Sometimes the First Boys Don't Count" (Smile!) women are supposed to shut up and "swallow like a brave girl, taking her medicine." Many poems in The Woman With Two Vaginas address female sexuality in an ironic or satirical way. Are satire and irony devices that make it easier to speak?

DD: For me, social satire is a way into subjects and material I want to cover, a sideways glance that I hope is illuminating. Of course, sometimes the tone of a poem requires that I meet my subject head on, creating a balancing act between artifice and sincerity.

KH: I admire your ability to speak frankly, to use the real names for things, for example, to say what requires saying. When I say something that nice girls aren't expected to say, I think of you, call these my "Denise Duhamel moments." What compels you to say the words many women (and some men) find difficult–words like penis, vagina, clitoris, masturbate, hymen? You aren't afraid of any issue or topic. From where does this fearless sense of empowerment come?

DD: Wow, I'm so glad that you call upon me when it comes to writing "vagina" at all! I think at first my empowerment was nothing more than naiveté. I really couldn't imagine anyone reading my work, so I just wrote whatever I wanted to write–that is, once I had read people like Sharon Olds, who also takes risks with subject matter. Now I'm so used to writing about difficult things that it isn't hard for me anymore. I don't fear the wrath of the Gods of Censorship since I've already been censored, (my book The Woman with Two Vaginas was censored in Canada) and I lived through it.

KH: Do you think of yourself a feminist writer or do you eschew any labels?

DD: I do consider myself a feminist poet. I've never been uncomfortable with that label. It may have to do with my generation. In seventh grade, I had a teacher who played Helen Reddy's "I Am Woman," and girls and boys sang along. We felt part of the feminist movement; it was cool to be a feminist. I know that's changed now, and some younger woman, especially, shrug off that label.

KH: Why?

DD: I think it has to do with media stereotypes, as feminists being seen as ugly and mannish. Feminists have been demonized to a certain extent, and young women may be reacting to that. I've heard so many young woman say: I'm not a feminist; I'm a humanist, as though feminists are against humans. Odd.

KH: Do you pay attention to reviews–what others say about your work? For example Publishers Weekly has characterized Queen for a Day, your selected and new poems, as writing that lies "somewhere between Sex and the City, Sharon Olds and Spalding Gray." The Kirkus Review said your book The Star Spangled Banner was "exuberant in a breathless, inarticulate way," and your writing described as "ditsy and unsophisticated," with "more than a little class resentment" lying beneath. How do you come to terms with a review that might be critical?

DD: I had some very good advice early on. Another writer told me: if you believe the good stuff, you have to believe the bad stuff too. So now I just don't believe any of it, really. That's not to say that I'm not thrilled to get a good review. I am, but I try not to let it go to my head. And when I get a horrible review, I try not to mope or waste too much time cursing the reviewer. I'm basically happy to get reviewed at all.


KH: Taking risks with poetic forms and language isn't new to you. Maureen Seaton and you have collaborated on three published books of poems: Exquisite Politics, Oyl and Little Novels. How did you and Maureen begin your collaborative writing adventure?

DD: About fifteen years ago, I went to hear the poet David Trinidad reading at the St. Marks Poetry Project in New York City. I was surprised and a little confused when, mid-reading, David asked his friend Bob Flanagan to join him on stage to read some of their collaborations. It was the first time I had ever heard of collaborative poetry, and I had no idea what to expect. The poets read their joint efforts, alternating line by line, after explaining that they were not necessarily reading their lines, that is, the lines they had actually individually written. I felt lucky to have seen the work performed, a living indication of the influence friendship plays in the work of poets. David's own poems were strongly narrative, infusing pop culture with his Los Angeles boyhood. When Bob joined him on stage, the poem's narratives blew open–suddenly the two poets were in a world of surrealism and collage. The next morning I called Maureen and explained as
best I could what I had witnessed and asked if she'd be up to trying to write some poems that way.

KH: While an undergraduate, one of my texts dealt with collaborative writing. In it, the author suggested that perhaps all writing might be considered collaborative, that the minute words are put on paper, collaboration begins between writer and reader. But I understand that Maureen and you are engaged in something different.

DD: I'm always surprised by how writers throw around the word collaboration. I went to an AWP panel once on collaborative writing, and I was so excited until I heard: "I collaborate with my disease" (since I write about it); "I collaborate with my family" (since I write about them) and so on. I finally raised my hand and asked: "Do any of you write with other writers?" And not one had. I thought, well, I, too, collaborate with words and my imagination, but that doesn't make me a collaborator in the sense of working with others.

KH: Many of your collaborative pieces seem to be more politically charged and less personal. The two of you tackle may issues from homosexuality to Democrats to the feminine side of Olive Oyl, Popeye's girlfriend, to reinterpreting classic novels like Madame Bovary. Do you find there is more power in the two of your voices versus speaking only as one?

DD: Maureen and I actually believe we find a third voice when we write together, a voice that is neither Maureen nor me. I do believe that it is very powerful for us. I am so energized by Maureen's language that the writing comes more easily than when I write solo.

KH: Was the creation of a new voice your intent or just a lucky happenstance?

DD: It was lucky happenstance, to be sure. Maureen and I were sure we wanted to create something new. But we weren't sure what that new thing would be. It seems like my collaborative life has come full circle as Maureen and I are now compiling an anthology of collaborative writing from the 1940s to the present with none other than David Trinidad. Saints of Hysteria: A Half-Century of American Poetry (Soft Skull Press) will come out in late 2005. I shyly asked David and his writing partner to sign their book when I heard them read that night so long ago, but I didn't become friends with him until years later.

KH: How does the collaborative process work?

DD: At first we just wrote one line at a time–Maureen, then me, then Maureen. We'd pick a subject–violence, women's bodies, food, whatever. Sometimes we just left the subject matter open-ended. Maureen and I have a lot of the same concerns and passions, so we usually tuned into each other very well. But our approaches and styles were quite different, so that's where the fun came in.

We love the surrealist parlor game Exquisite Corpse, a method of composition in which writers write two lines of poetry at a time, and then fold the paper in such a way so that each writer can only see half of the lines her partner has written. We called our first book Exquisite Politics, a nod to the exquisite corpse. We've also written cut ups, prose blocks, echo poems, and poems based on substitution.

KH: How do you and Maureen deal with issues of ego in your collaborations? For example, do you revise each other's lines? Who decides what stays and what goes?

DD: Maureen and I write a lot of poems. When we play Exquisite Corpse, for example, we are actually writing two poems simultaneously since we are passing pieces of paper back and forth. We don't revise that much. We're more likely to throw away pieces and start over. Exquisite Corpse can be hit or miss, although Maureen and I are used to each other now so that we usually have good luck. We have ground rules and are both respectful of each other's lines. I don't usually revise Maureen's lines or she mine. We usually only revise our own lines.

KH: There has been much made lately of collage in writing. It seems that writing often mirrors art. Is the key difference between collage and collaboration the notion that collaboration takes two and collage can be done alone? Or is there a difference?

DD: Maureen and I have made collages collaboratively. We've done freewriting and then edited it and rearranged and cut and paste it. So I think it's possible to overlap collage and collaboration. Exquisite Corpse collaboration is collage by nature since poets are piecing their lines together.

KH: You have written and published ten books of poetry. You've written and published collaboratively. You've experimented with new forms, making some of them distinctly your own. You've edited two anthologies. What's next for you?

DD: Right now, I'm learning more about making handmade books, my first love, from a book artist in Miami. Poetically I hope to keep pushing myself in terms of form and craft. It's important for me to keep trying new ways of making poems.
Denise Duhamel is the author of numerous books of poetry. Her most recent title is Queen for a Day: Selected and New Poems (Pitt, 2001). Her other titles currently in print are The Star-Spangled Banner, winner of the Crab Orchard Poetry Prize (1999); Exquisite Politics (with Maureen Seaton, 1997); Kinky (Orchises, 1997); Girl Soldier (Garden Street, 1996); and How the Sky Fell (Pearl, 1996). A winner of a NEA Fellowship, her poems appeared in The Best American Poetry (1993, 1994, 1998 and 2000). She teaches creative writing and literature at Florida International University. Her poetry appears in Smartish Pace, Issue 12.