Aaron Poochigian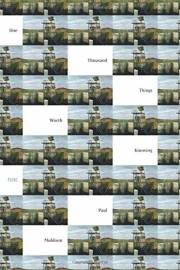 Two poets, both alike in age and erudition, both accomplished: one as famous as poets in the 21st century can be; the other likely unfamiliar to you.
One Thousand Things Worth Knowing, Paul Muldoon's twelfth collection, begins with "Cuthbert and the Otters," an occasional elegy composed for the funeral of Seamus Heaney. The central narrative, developed at intervals throughout the poem, concerns Saint Cuthbert and the otters who took care of him while he prayed beside the sea. As the poem progresses, the otters become confounded with the monks who carried off Cuthbert's remains to protect them from invading Danes. Both the otters and monks, then, become the pall-bearers (of whom Muldoon was one) carrying Heaney's coffin. Other strands bring in Vikings and Celts, the 82nd Airborne and sundry other historical figures and settings. The poem, thus, is a collage, and it seems Muldoon composed the layers separately, then broke them up and interleaved them. An image in the concluding poem, "Dirty Data," (set in New Mexico) provides, in concrete form, the esthetic theory behind this technique: "A Mescalero girl twists/osiers into a basket that does indeed imitate/what passes for life, given how ring wants nothing more than to intertwine/with ring" (p. 99).
The paratactic juxtaposition of information allows Muldoon to indulge in one of his favorite tics: historical, etymological and physiological factoids. In "Cuthbert and the Otters" the retreat into these ostensibly fatuous bits of information portrays the speaker's attempt to escape from "the thought of Seamus Heaney dead" (p. 11). The vortex of associations inevitably cycles back to mortality, however, as when the speaker's mind coughs up facts about corpses that debunk the old wives' tale that hair and finger- and toenails continue to grow after death:
What looks like a growth of stubble/
has to do with the chin drying out. . . (p. 5)
As with the stubble, so with the finger- and toenails./
I cannot thole the thought of Seamus Heaney dead. (p. 11)
In its frequent levity and self-conscious pedantry the poem embodies the speaker's claim that he is "in complete denial" of Heaney's death (p. 4). As the tightening gyre swirls nearer and nearer around the funeral itself, the speaker works his way through the grieving process.
In "Cuthbert" and throughout the collection, Muldoon's verbal efficiency and lexical precision elevate the loose rhythms and outrageous rhymes of doggerel to high art. In addition to pyrotechnics of wit, the collection sustains interest through the variety of its dramatic settings—land, air, sea, and from Ireland and the good ol' USA (including North Dakota) to Cuba, Ghana, "somewhere off the Grand Banks" (p. 37), Mars and a hut whose "precise location/is known only to God" (p. 51). Muldoon's poems also engage the reader by revealing the psychological processes involved in writing a poem. Indeed, what a psychologist might call a "loose connection" a poet would call "associative logic."
In Catamaran, for example, the train of thought runs from the pinging of a whale-finder to a prisoner's tapping on a pipe in his cell:
Between Dominica and Martinique
We go in search of sperm whales, listening for their tink-tink-tink
on a hydrophone
hooked up to a minispeaker. A prisoner's tap
on a heating pipe. . .
The one faint hope by which he's driven.
From there we learn that Muldoon's son is on board as well, reading "Lord of the Flies," which evokes Charles Monteith, the editor at Faber & Faber who acquired the book, how he was chubby and preppy, like Piggy. All of which leads to Muldoon imagining "lying by my dead wife/just as a sperm whale lies by its dead mate. . ." (p. 62). The poem ends with etymology, a signature Muldoon move—"catamaran" is the corruption of a Tamil word for "two logs/lashed together with a rope or the like. . ." (p. 62). The poem does indeed lash together its images and associations snugly. In a few others, like "We Love The Horse Because Its Haunch," the exuberant vortex of factoids and witticisms lacks sufficient centripetal force.
Muldoon himself is an erudite, wiseacre presence in all but a few of the poems. The collection does include a number of translations, from which his persona recuses itself. His condensed version of the 10th century anonymous Irish "Marban and Guaire" is crisp and idiomatic, and it was a delight to discover one of the models for Yeats' "Fergus and the Druid" and "The Wanderings of Usheen." For a taste, Marban the Hermit explains to King Guaire:
The dimensions of my hut—
Small but not too small—
make it easy enough to defend.
A woman in the guise of blackbird
Spreads the word
From its gable end.
This translation shows Muldoon's range and mastery—he completely inhabits voices not his own and even simplifies his technique, using more traditional rhythms and straightforward rhymes, to replicate the form of the original.
Most of the poems in this collection stand out as remarkable; a few are not so much individual poems as poetry in a distinctive voice. Which is to say: Muldoon does seem here and there to be operating on autopilot. Let us hope that, instead of merely coasting, he keeps pushing himself to greater heights and depths.
In the other plate of the scales we can set Shakespeare's Horse, the third book by a poet six years Muldoon's junior, Joseph Harrison. The collection begins with airy lines and airy subjects. The wind itself is what wafts the sentences in his "Windsocks" and "Afghan Kites" through heterometrical rhymed stanzas. Let's take these lines describing razor-edged kites as an example:
. . . And these
Frail artifacts of bright,
Thin paper and whittled bamboo,
Far from mere brilliant toys crafted to please
When unspooled to a dazzling height,
Are framed and fashioned to,
With wicked ease,
Combat

Both air
And other kites,
Across whose wires they slice
Their own tars caked in an armored coat
Composing the edges of these scintillant fights
(Adhesive, ground glass, and mushed rice)
So, severed, off they float
In pointless flights. . . (p. 22)
Though the poem rises here and there to Wilburesque virtuosity, the syntax does at times become muddled, and the sentences become choppy with qualifications inserted, it seems, primarily to satisfy the demands of the form. The effect is not always that of effortlessness.
Harrison is at his best when dealing with personal subjects like love and friendship. "Oh" deserves to be quoted in full:
Oh

When Love herself came to me
Framed by the classroom door
Her presence shot straight through me,
My heart dropped to the floor.

Nothing phantasmal slew me.
What eyes and hair and skin
Could do they did to do me,
Helpless and hopeless, in.

Oh when her news came to me
– Ovarian, forty-four –
Her absence echoed through me,
Ringing my hollowed core. (p. 46)
The Horatian "To Riccardo Duranti" is also lovely. Though the imagery is stock, a living warmth and fondness radiate from Harrison's description of his friend's "hilltop farm in the Sabine hills" (p. 75). The poem's final stanza contains a lesson which poets inclined to preach would do well to heed:
Although I believe this poem should tell you something,
Any advice I might give you would be superfluous;
You're already living the way I would urge you to. (p. 76)
Sometimes it's hard to know where to end a poem. Harrison's longer poems ("To Pluto, Upon its Declassification," "Wakefield," "To Trebitsch Lincoln in Hell") seem to go on a bit too long. "Wakefield," for example, steps back from its central narrative twice into all-too-literary frames—first, to that of Nathaniel Hawthorne contemplating the story, second, (inevitably) to that of the poet-speaker himself. The poem seems to be searching, searching for something to do with the remarkable story of Mr. Wakefield. Harrison does create the impression that the poem is discovering itself as it goes along, and this technique is a boon until it isn't—that is, until the reader loses patience with dilatoriness. Along the same lines, Harrison's longer sentences consist of heaps of qualification (primarily through apposition) and give the impression that he is reaching for the right word, the right phrase. This technique is effective at representing a mind in the act of thinking, a live voice speaking from the page. The risk, however, is that the reader will grow impatient and wish that the poet had simply come up with the mot juste instead.
Harrison is very well read, and the majority of the poems in the collection presuppose more than a passing familiarity with literary history: "Dr. [Samuel] Johnson Rolls Down a Hill;" "Larkin's Nephew;" "Damon" with its allusions to pastoral elegy, Matthew Arnold's "The Scholar Gypsy" and Poe; "He Wasn't Proust;" "To His Book;" and others. Stock literary settings are common: the compartmentalized Dantean Underworld in "To Trebitsch Lincoln in Hell," for example, and the Hardyesque village in "Henri Provence in Wessex." I love Hardy's work passionately but, in the latter example, what was enjoyable was the discovery of the snow and the speaker's reaction to it. Rather than adding depth to this central experience, the allusive context struck me as bookish distraction.
In the interests of full disclosure, I should confess my prejudice against poetry about literary figures. To judge from how prevalent this mode is, I am in a very small minority. Still, the collection as a whole would have been more emotionally engaging if it had consisted of more poems about friends and lovers and fewer about famous writers and literary milieus. Though Muldoon and Harrison can both sound like academic poets writing for academic poets, the former has learned to sport his learning as part of the fabric of his amazing technicolor dreamcoat; the latter wears it at times like Miniver Cheevy's "iron clothing."
Shakespeare's Horse abounds in troubled men: men who have a breakdown ("Dr. Johnson Rolls Down a Hill," "Wakefield"); men who avoid responsibilities ("Gallienus," "Wakefield"); men who are master deceivers ("To Trebitsch Lincoln in Hell," "Wakefield"). The failed poet becomes a major character in the book:
Little poem, you know you're no good. (p. 46)
I was of course mistaking
Your interest all the time
In what could only bore. (p. 58)
These lines come off not as self-deprecating but sincere, and it is difficult to muster enthusiasm for poems with low self-esteem. A poem is most engaging when it is excited about itself, when its intrinsic gusto announces, like Yeats: "I have a marvelous thing to say,/a certain marvelous thing. . ."
The rush of lyrics that ends the collection provides just this sort of gusto. The title poem, in particular, is kinetic from start to finish, breathing new life into Shakespeare's irrepressible punning on his first name in Sonnet 135. Though the poem finds its trigger in the legend that Shakespeare got his start in London theater taking care of patrons' horses, it becomes far more than another homage to the Bard:
He was a man knew horses, so we moved
As wills were one, and all was won at will,
In hand with such sleight handling as improved
Those parks and parcels where we're racing still,
Pounding like pairs of hooves or pairs of hearts
Through woodland scenes and lush, dramatic spaces,
With all our parts in play to play all parts
In pace with pace to put us through his paces.
Ages have passed. All channels channel what
Imagined these green plots and gave them names
Down to the smallest role, if and and but,
What flies the time (the globe gone up in flames),
What thunders back to ring the ringing course
And runs like the streaking will, like Shakespeare's horse. (p. 113)
The "He" here is more than just Shakespeare as paterfamilias of English-language poets—it is God, if you will.
Muldoon and Harrison are not the most comfortable bedfellows. When they go astray, the former ends up with poems that are not so much individual works of art as expressions of his singular persona, and the latter retreats into stock settings and situations, that is, into mere literaria. But when they succeed, they show that English-language poetry is galloping onward with mettlesome vitality.
Aaron Poochigian's collections and translations include Apollonius of Rhodes' Jason and the Argonauts (Penguin Classics, 2014), The Cosmic Purr (Able Muse Press, 2012), Aratus' Phaenomena (Johns Hopkins, 2010) and Stung With Love: The Poems and Fragments of Sappho (Penguin, 2009). His poems and translations have appeared in The Chimaera, The Classical Journal and Unsplendid. He was a visiting professor of Classics at the University of Utah in 2007—8 and D.L. Jordon Fellow at Roanoke College in Salem, Virginia from 2008—2009. He now lives and writes in New York City. His poetry and translations appear in Smartish Pace, Issue 16 (2009).