Gavin T. Richardson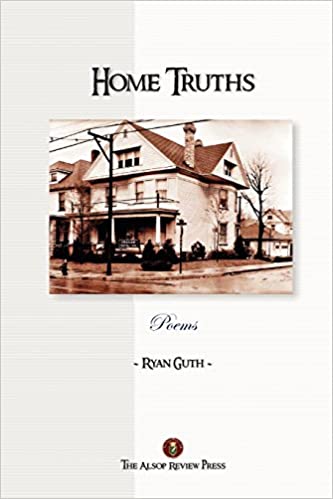 Anyone who has ever done genealogical work knows the mixture of joy and sorrow such an enterprise involves. Even the most respectable of families has its skeletons–persons, events and resentments that are discussed only in whispers at family reunions, if discussed at all. Some of the best poems about family relationships acknowledge this mixture, from Roethke's "My Papa's Waltz," whose fond recollections are troubled by the nagging hint of abuse, to the perennial Father's Day favorite "Those Winter Sundays," in which Robert Hayden's speaker belatedly praises the "austere and lonely offices" of fatherhood while not neglecting to mention "the chronic angers of that house."
It is precisely this mixture that distinguishes Ryan Guth's Home Truths, a thorough reworking of his 2006 collection of poems by the same name, with five new pieces (and new revelations) added. Andrew Hudgins, with whom Guth studied at the University of Cincinnati, notes in the book's back cover blurb that he read these poems. "beginning to end," and indeed, Home Truths rewards such a reading. While the book can be dipped into for discrete delights, it is best experienced in one or two sustained sittings, for this is how the complex interactions among characters, images, and even artifacts can best be appreciated.
The collection introduces us to a family in the 1950s struggling to cohere despite highly personal burdens and ambitions. In the book's four sections (I. Home; II. Artifacts; III. Conjectures; IV. Truths), we meet the poet's maternal grandmother, whose sudden widowing at age 46 leaves her with a determination to preserve the family business—a funeral home—as a simple matter of survival. There ought to be a genre designation for literary works set in funeral homes. Something Greek, perhaps (nosthanatoikos?), or better yet, German (Todheimroman?). As with Alison Bechdel's Fun Home or the HBO series Six Feet Under, the paradox of life-in-death, the nostalgia for a life remembered in that impossible place, the quotidian set against the eternal—such dramatic potential is almost too rich to be refused. While there is genuine love afforded the grandmother in these pages, there is also the dramatized "home truth" that her employment of son-in-law Hank (the poet's father) was perceived to have been exploitative, at least by Hank. In "Family Lore," the seven-year-old poet confronts his grandmother on this very matter, asking what she paid Hank for his years of service:
This time,
the dragon squirmed,
uncoiled a little.
Sighing through her nose,
she stared down at me for a moment,
searching my face –
I could see light from the window behind her
through her thinning hair –
then turned back to her program.

"That's between your father and me."
That father, Hank, stands at the collection's epicenter. His early success as a published writer (his sci-fi short story "Errand of Extermination," April 1, 1952, can still be read on the Esquire website) left him chasing that success for the next several years, only to catch frustration. Anyone who has struggled to feed a family while pursuing a creative life can understand the unique challenges of such an existence. In an arrangement brokered by wife Phyllis, Hank agrees to work at the funeral home to make ends meet while writing (or hoping to write) in the evenings and stolen moments. Determining whether the grind of the funeral business was the reason why Hank could not achieve his writing dreams, or whether this business became a convenient scapegoat for his "unsuccess," is one of the voyeuristic pleasures of Home Truths. The ironically titled "Work Book" describes Hank's writing journal filled with creative prompts and inspirational quotations, but containing little by way of real work: "At the back / a packet of store-bought notebook filler, / lined and ruled and brown with age, / still in its paper sleeve …"
Among supporting characters in Home Truths is Aunt Wilma, whose antics alone could fill a collection of poetry, and her husband Tom, who seems to have been a pretty good guy to roll a cigarette with, but who might not have been good for much else. Although there is darkness in Tom and Wilma's relationship, these characters are responsible for some genuinely funny moments, such as in "Elvis and My Father Fail to reach an Artistic Agreement," which chronicles Hank's puzzlement over the popularity of a new kid named Elvis Presley, juxtaposed against Tom's delight that the boy's voice on the "Looziana Hayride" works Wilma into an erotic frenzy that Tom is the ultimate beneficiary of. Out on an undertaker's body run, the two men hear Elvis's voice low over the hearse radio:
Veering from eerie
Delta-blues falsetto
To gospel shiver to burbling
Bing and Dean. Too deep,
Too high, too
Close to the mike ….
For Christ's sake,
He's got no idea what he's doing,
Throwing it all together like that:
Like a taxi-dancing booth
At a church fund-raiser.
The assonance and musicality of these first lines remind us that no matter how novelistic the character sketches, this is ultimately a book of poems. If this collection has a flaw, it is that these poems are accessible, with the result that we might be seduced to read solely for plotline and not fully appreciate the poems as poems. The enigmatic and suggestive are here, but they are not the dominant idiom.
Perhaps the greatest artistic element of this collection is, for lack of a better term, the strong sense of dramatic irony that runs throughout the work, beginning with the collection title that plays upon the warm and familiar notions of home while simultaneously reminding readers of the somber family business. Soon after meeting the cast of characters, we begin to know secret things that persons in the poems do not, at least not yet. In the collection of letters that defines the Artifacts section, we read Phyllis's suggestion that Hank work at the funeral home. From poems in part 1, Home, we know that this innocuous proposal will lead to a lifetime of resentment, but we are as powerless to stop it as the speakers are to see it. With such tension prevailing in the work, one might expect Home Truths to read like a Greek tragedy. Such a characterization would be overstated; there is no grand self-blinding at the end, just very human blind spots all along the way.
In this regard, it is perhaps the Artifacts section that is the least obviously poetic yet most revelatory. There are prose poems elsewhere in this collection, so it was initially unclear to this reviewer whether these letters were genuine correspondence written in the 1950s or were poetic re-imaginings. The book's back matter affirms these as genuine letters. In addition to utilizing them for poetic context, Guth underscores their artefactual nature with concluding descriptions that focus on their ink, their paper, their measurements, and other precise details that are more in keeping with Japanese monogatari than contemporary poetry:
Typed (except for closing and signature) on 8.5" x 11" typing paper:
green, no watermark. Again, no errors are discernible.
It is difficult to know precisely what is intended by such colophons. Is it a point of pride that the poet's father could compose lyrical and sophisticated correspondence with no errors, like a mythical, immaculate Mozart score? Or is there an irony here too, as the artifact testifies that a supremely disordered family was chronicled by an astonishingly clean manuscript? At the very least, these letters put Hank Guth's vigorous prose on full display. Of course, Hank never would have thought of his letters as art; in them, he typically complains of the distractions that keep him away from his real work as a writer. Did the Apostle Paul know that his letters would be taken as the inerrant word of God? Probably not. To compare Hank's letters with those of Paul seems a bit silly, but the comparison underscores the notion that the force of art is sometimes found in the accidental and intimate. One wonders what Hank would think if he knew that his letters from 1955 would become part of a grand poetic vision of his son. Typically, with the "anxiety of influence," the son has to live up to the achievements of the father. Virgil to Homer. Dante to Virgil. But here the roles are changed; a son has to come to terms with the father's artistic failure. Perhaps that is why there is a discernable element of redemption in Home Truths, with the collection being the way a son ponders the humanity of his father and offers him some measure of completion–a gift for a creative life interrupted.
While its relentless honesty is apparent in every section, what saves Home Truths from being crassly exploitative is that it is sustained by a palpable desire to imagine family members as real people in all their human messiness, and to go about that imagining with sensitivity and compassion. Indeed, lines from the final poem of the collection, "Family Romance," which imagines words unspoken between Hank and Phyllis as she mourned the loss of her father, sums up much of the push-and-pull of grief and love, the tension between claims of blood and the bonds of marriage, that mark the book as a whole:
2.
This is what my father might have said,
but never did. That they'd been married
less than thirteen months when her father died.
That they were sleeping in her childhood bedroom.
That he lay beside her every night
and saw no robes, no angels – only
the dark pool of a mirror on the wall,
bookshelves he'd built himself, lights
flowing back and forth across the ceiling
from a few cars on the street below.
That he loved her –
and that that had made no difference to her grief.
Ultimately, reading Home Truths is like being invited as a guest to a family reunion. The covered dishes are delicious. But when everyone has had too much, the darkness is there too. Sometimes it feels as if you're learning too much, and it can all be a bit embarrassing. Still, you find yourself squinting through a keyhole you suspect you shouldn't be squinting through. But the author has given us permission, knowing full well that all homes have keyholes, and that selective truth is really no truth at all.
Dr. Gavin Richardson received his B.A. in English and Classics from Vanderbilt University and earned his M.A. and Ph.D. at the University of Illinois. At Union he has taught seminars on Beowulf, Dante, Arthurian Literature, and Literary Theory, among other courses. Dr. Richardson has presented papers at conferences sponsored by the International Congress of Medieval Studies, the Illinois Medieval Association, the Medieval Association of the Midwest, and the Southeastern Medievalist Association. He has contributed essays to multiple journals and book projects. His most recent publication examines the phenomenon of male revenge fantasy in medieval literature: "Disenchantment: Hoccleve's Tale of Jonathas and Male Revenge Fantasy," in The Faces of Charisma. Text, Image, Object in Byzantium and the Medieval West (Brill, 2018). He has an essay on Roman numismatic iconography and the contemporary American debate over border walls forthcoming in The Other Journal: An Intersection of Theology and Culture. Currently he is investigating the intersection of late Roman numismatic iconography and the illustrations found in the Vatican Vergil. Dr. Richardson has twice won the Newell Innovative Teaching Award, and in 2012 he was named Union University Faculty of the Year.